Urea price in Georgia today 27.06.2022
Fertiliser prices in Georgia, linked primarily to sowing operations. Prices are also influenced by global urea prices. We have prepared a chart of urea prices
Amonium nitrate Georgia price per MT
| Date | Amonium nitrate US $ Price per MT | Difference |
| --- | --- | --- |
| 2022-05-28 | $886 | $0.00 |
| 2022-05-29 | $892 | -$6.00 |
| 2022-05-30 | $893 | -$1.00 |
| 2022-05-31 | $894 | -$1.00 |
| 2022-06-01 | $897 | -$3.00 |
| 2022-06-02 | $901 | -$4.00 |
| 2022-06-03 | $903 | -$2.00 |
| 2022-06-04 | $904 | -$1.00 |
| 2022-06-05 | $907 | -$3.00 |
| 2022-06-06 | $907 | $0.00 |
| 2022-06-07 | $908 | -$1.00 |
| 2022-06-08 | $911 | -$3.00 |
| 2022-06-09 | $917 | -$6.00 |
| 2022-06-10 | $923 | -$6.00 |
| 2022-06-11 | $924 | -$1.00 |
| 2022-06-12 | $925 | -$1.00 |
| 2022-06-13 | $931 | -$6.00 |
| 2022-06-14 | $933 | -$2.00 |
| 2022-06-15 | $926 | $7.00 |
| 2022-06-16 | $929 | -$3.00 |
| 2022-06-17 | $931 | -$2.00 |
| 2022-06-18 | $930 | $1.00 |
| 2022-06-19 | $935 | -$5.00 |
| 2022-06-20 | $935 | $0.00 |
| 2022-06-21 | $940 | -$5.00 |
| 2022-06-22 | $942 | -$2.00 |
| 2022-06-23 | $943 | -$1.00 |
| 2022-06-24 | $947 | -$4.00 |
| 2022-06-25 | $950 | -$3.00 |
| 2022-06-26 | $953 | -$3.00 |
Amonium Sulphate Georgia price per MT
| Date | Amonium Sulphate US $ Price per MT | Difference |
| --- | --- | --- |
| 2022-05-28 | $467 | $486.00 |
| 2022-05-29 | $471 | -$4.00 |
| 2022-05-30 | $471 | $0.00 |
| 2022-05-31 | $472 | -$1.00 |
| 2022-06-01 | $473 | -$1.00 |
| 2022-06-02 | $475 | -$2.00 |
| 2022-06-03 | $477 | -$2.00 |
| 2022-06-04 | $477 | $0.00 |
| 2022-06-05 | $478 | -$1.00 |
| 2022-06-06 | $478 | $0.00 |
| 2022-06-07 | $479 | -$1.00 |
| 2022-06-08 | $480 | -$1.00 |
| 2022-06-09 | $484 | -$4.00 |
| 2022-06-10 | $487 | -$3.00 |
| 2022-06-11 | $487 | $0.00 |
| 2022-06-12 | $488 | -$1.00 |
| 2022-06-13 | $491 | -$3.00 |
| 2022-06-14 | $492 | -$1.00 |
| 2022-06-15 | $488 | $4.00 |
| 2022-06-16 | $490 | -$2.00 |
| 2022-06-17 | $491 | -$1.00 |
| 2022-06-18 | $491 | $0.00 |
| 2022-06-19 | $493 | -$2.00 |
| 2022-06-20 | $493 | $0.00 |
| 2022-06-21 | $496 | -$3.00 |
| 2022-06-22 | $497 | -$1.00 |
| 2022-06-23 | $497 | $0.00 |
| 2022-06-24 | $499 | -$2.00 |
| 2022-06-25 | $501 | -$2.00 |
| 2022-06-26 | $503 | -$2.00 |
Prilled Urea Georgia price per MT
| Date | Prilled Urea US $ Price per MT | Difference |
| --- | --- | --- |
| 2022-05-28 | $691 | -$188.00 |
| 2022-05-29 | $696 | -$5.00 |
| 2022-05-30 | $697 | -$1.00 |
| 2022-05-31 | $698 | -$1.00 |
| 2022-06-01 | $700 | -$2.00 |
| 2022-06-02 | $703 | -$3.00 |
| 2022-06-03 | $705 | -$2.00 |
| 2022-06-04 | $706 | -$1.00 |
| 2022-06-05 | $707 | -$1.00 |
| 2022-06-06 | $707 | $0.00 |
| 2022-06-07 | $708 | -$1.00 |
| 2022-06-08 | $711 | -$3.00 |
| 2022-06-09 | $715 | -$4.00 |
| 2022-06-10 | $720 | -$5.00 |
| 2022-06-11 | $721 | -$1.00 |
| 2022-06-12 | $722 | -$1.00 |
| 2022-06-13 | $727 | -$5.00 |
| 2022-06-14 | $728 | -$1.00 |
| 2022-06-15 | $723 | $5.00 |
| 2022-06-16 | $725 | -$2.00 |
| 2022-06-17 | $727 | -$2.00 |
| 2022-06-18 | $726 | $1.00 |
| 2022-06-19 | $730 | -$4.00 |
| 2022-06-20 | $730 | $0.00 |
| 2022-06-21 | $734 | -$4.00 |
| 2022-06-22 | $735 | -$1.00 |
| 2022-06-23 | $735 | $0.00 |
| 2022-06-24 | $739 | -$4.00 |
| 2022-06-25 | $741 | -$2.00 |
| 2022-06-26 | $743 | -$2.00 |
UAN 32 Georgia price per MT
| Date | UAN 32 US $ Price per MT | Difference |
| --- | --- | --- |
| 2022-05-28 | $814 | -$71.00 |
| 2022-05-29 | $820 | -$6.00 |
| 2022-05-30 | $821 | -$1.00 |
| 2022-05-31 | $821 | $0.00 |
| 2022-06-01 | $824 | -$3.00 |
| 2022-06-02 | $828 | -$4.00 |
| 2022-06-03 | $830 | -$2.00 |
| 2022-06-04 | $831 | -$1.00 |
| 2022-06-05 | $833 | -$2.00 |
| 2022-06-06 | $833 | $0.00 |
| 2022-06-07 | $834 | -$1.00 |
| 2022-06-08 | $837 | -$3.00 |
| 2022-06-09 | $842 | -$5.00 |
| 2022-06-10 | $848 | -$6.00 |
| 2022-06-11 | $849 | -$1.00 |
| 2022-06-12 | $850 | -$1.00 |
| 2022-06-13 | $856 | -$6.00 |
| 2022-06-14 | $857 | -$1.00 |
| 2022-06-15 | $851 | $6.00 |
| 2022-06-16 | $854 | -$3.00 |
| 2022-06-17 | $856 | -$2.00 |
| 2022-06-18 | $855 | $1.00 |
| 2022-06-19 | $859 | -$4.00 |
| 2022-06-20 | $859 | $0.00 |
| 2022-06-21 | $864 | -$5.00 |
| 2022-06-22 | $865 | -$1.00 |
| 2022-06-23 | $866 | -$1.00 |
| 2022-06-24 | $870 | -$4.00 |
| 2022-06-25 | $873 | -$3.00 |
| 2022-06-26 | $875 | -$2.00 |
Granular Urea Georgia price per MT
| Date | Granular Urea US $ Price per MT | Difference |
| --- | --- | --- |
| 2022-05-28 | $682 | $193.00 |
| 2022-05-29 | $686 | -$4.00 |
| 2022-05-30 | $687 | -$1.00 |
| 2022-05-31 | $688 | -$1.00 |
| 2022-06-01 | $690 | -$2.00 |
| 2022-06-02 | $693 | -$3.00 |
| 2022-06-03 | $695 | -$2.00 |
| 2022-06-04 | $696 | -$1.00 |
| 2022-06-05 | $697 | -$1.00 |
| 2022-06-06 | $697 | $0.00 |
| 2022-06-07 | $698 | -$1.00 |
| 2022-06-08 | $701 | -$3.00 |
| 2022-06-09 | $705 | -$4.00 |
| 2022-06-10 | $710 | -$5.00 |
| 2022-06-11 | $711 | -$1.00 |
| 2022-06-12 | $712 | -$1.00 |
| 2022-06-13 | $716 | -$4.00 |
| 2022-06-14 | $718 | -$2.00 |
| 2022-06-15 | $712 | $6.00 |
| 2022-06-16 | $715 | -$3.00 |
| 2022-06-17 | $716 | -$1.00 |
| 2022-06-18 | $716 | $0.00 |
| 2022-06-19 | $719 | -$3.00 |
| 2022-06-20 | $719 | $0.00 |
| 2022-06-21 | $723 | -$4.00 |
| 2022-06-22 | $724 | -$1.00 |
| 2022-06-23 | $725 | -$1.00 |
| 2022-06-24 | $728 | -$3.00 |
| 2022-06-25 | $731 | -$3.00 |
| 2022-06-26 | $733 | -$2.00 |
SCO UREA 46% 27.06.2022
| Product | Origin | Price | Minimal Quantity | Destination |
| --- | --- | --- | --- | --- |
| Urea 46 Granular | Turkmenistan | $560 per MT | 200 MT | CPT Mersin ( Turkey) |
| Urea 46 Granular | Turkmenistan | $545 per MT | 200 MT | CPT POTI (Georgia) |
| Urea 46 Granular | Turkmenistan | $680 per MT | 200 MT | CPT Riga (Latvia) |
| Urea 46 Granular | Turkmenistan | $680 per MT | 200 MT | CPT Bandar Abbas |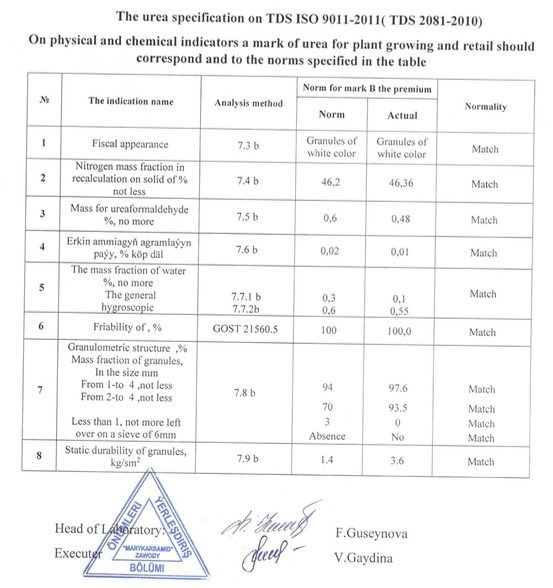 CPT TRANSACTION PROCEDURE
Buyer issues LOI with Buyer's company registration certificate and Financial Statement from the Buyer's bank clarifying buyer's financial capability
Seller Issues Sale & Purchase Agreement (SPA), Buyer review, amend (if necessary), signs and return the SPA in WORD format to Seller within 3 banking days. Seller sends final SPA to Buyer in PDF format, Buyer confirms final SPA and issues letter of acceptance of the final SPA.
Seller issues to Buyer via email the following transaction documents:

commitment to supply
statement of product availability
certificate of origin
product passport

Buyer confirms the receipt of the documents by mail and issue confirmation letter within 24hrs.

Prepayment of 20% within 5 (five) calendar days after signing the contract.
The seller shall commence shipment within 10 calendar days. After receipt of the prepayment.
80% payment of the consignment of Goods within 2 (two) working days after receipt of the SGS inspection report after loading of transport and submission of all permits and full customs clearance of the Goods.
You may send all documents on official email [email protected]
Data
Russian suppliers
Turkmenistan exports line-up
Indian Exporters
European Importers